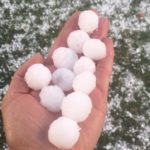 Welcome to Byron Bay. A vibrant town where the surf is nearly always up and the shorelines are golden, where beachgoers love to bask in glorious, uninterrupted sunshine and enjoy a barbie while watching the east coast's best sunsets. But what happens when a hailstorm hits the beach town? This was the case Thursday – and most of the residents retreated inside in horror watching the freakish weather unfold.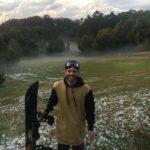 But Joti Jaffray, the founder ofThe Hoodie Co – an enterprise which sells custom hoodies, wholesale hoodies and skiing hoodies, – to ski resort staff all over the globe, knew how to embrace it. Joti had just returned home from a trip to the slopes of New Zealand's South Island where he was organizing staff hoodies for those working in in Cardrona, The Remarkables and Coronet Peak; popular ski resorts in the Queenstown area.
Joti was still very much in the snowboarding mindset and in fact, his snowboarding hoodie and gear hadn't yet been put away. He could hardly let the opportunity slip by. He pulled on his hoodie and board shorts! Walked out into the yard with snowboard in tow.

There wasn't much powder, more of a thin layer of hail spread across the yard. But it was just enough for Joti to be able to glide down without getting stuck. In fact, he shredded the slope in such a pace that quickly his black hoodie was just a dot at the bottom of the hill.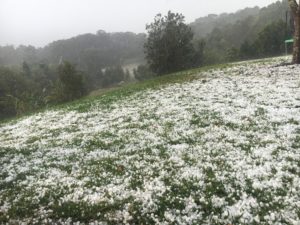 He filmed the whole event, which has had extraordinary success on social media; the video itself has gone viral and it has been promoted by Daily Mail and Buzzfeed – two media publications that froth on people doing weird stuff!
Despite Byron Bay having a reputation for being a place of eternal summer, the town still has distinct seasons, with a few chilly days during winter. For sure, the wardrobe of any Byron Bay-er will include shorts, thongs and t-shirts, however a hoodie or spray jacket will have you covered for any cooler Byron Bay days. It's unlikely that you'll need these, too many times a year – but they would certainly come in handy when a hail storm comes to town!
If you're planning on hitting the snow in New Zealand or elsewhere – or if you want to stock up some emergency clothes just in case another hail storm hits New South Wales – check out The Hoodie Co's varied stock of custom hoodies; including tall hoodies, snowboarding and skiing hoodies, men's hoodies and much more.Fans of The Hoodie Co's products include various ski resorts in Australia, New Zealand, Japan and Canada. University groups and wholesale hoodies for shop rebrands and even the Queenstown mountain bike club! But if you want to purchase a blank tall hoodie for yourself, The Hoodie Co offers free shipping for Australian customers and only $15 USD for worldwide.