Top 5 Canadian Ski Resorts – Your Ultimate Guide
Canada boasts some of the best skiing, deepest powder, craziest terrain parks, wildest parties and longest ski runs in the world. Each year the northern resorts attract hundreds of thousands of people wanting to shred the slopes. Amazingly there are over 289 ski resorts in Canada and so in this blog here at The Hoodie Co we have put together our top 5 resorts and what you can expect.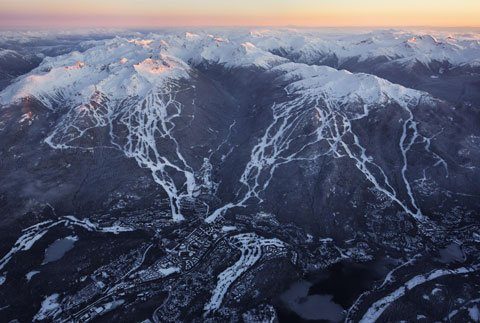 Number 1: Whistler Blackcomb
Resort: 675m
Summit: 2284m
Vertical: 1631m
Ski Area: 8171ac
Parks: 7
Average annual snowfall:1170cm
Beginners: 18%
Intermediate: 55%
Expert: 27%
Whistler Blackcomb is known as North America's largest ski resort. It is two resorts merged by the world's longest unsupported gondola, The Peak 2 Peak. Just two hours drive from Vancouver, the resort has something to offer for every level of skier, from first-timers to crazy adrenaline junkies.
Whistler Blackcomb boasts over 8000 acres of varied terrain, including wide bowls, groomed runs, steep shoots and terrain parks. The Whistler Bowl is one of the world's longest blue runs, perfect for beginners. Over at Blackcomb glacier, you have off-piste skiing, backcountry and heli-skiing for all the ski nuts out there. Enjoy the spectacular mountain views during the day and the quaint village at night. If you want it all in one package Whistle, Blackcomb will not disappoint.
Fashion is paramount in Whistler so that you blend in the crowd make sure you are wearing a custom hoodie or coaches jacket.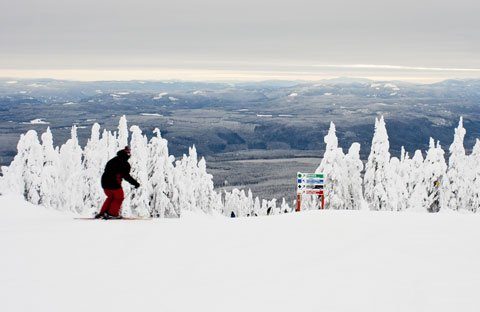 Number 2: Big White
Resort: 1755m
Summit: 2319m
Vertical: 777m
Ski Area: 2719ac
Parks: 1
Average annual snowfall: 750cm
Beginners: 18%
Intermediate: 54%
Expert: 28%
The Big White Resort is known for powder days and rolling pistes through the dense forest. The upper pine trees stay covered in snow and ice all season long, and are locally know as snow ghosts. Sounds amazing! You will find a mix of all sorts of terrain for every ski level. One of the best aspects is that there are some ski-in-ski-out accommodation options so you can ski right up to your door. Like skiing or boarding the trees? Big white offers some incredible tree skiing in deep dry powder snow. Just head to the 'powder chair' if deep tree skiing is your thing… but get there early for fresh tracks. Last time we visited Big white resort, there was free skiing on the two beginner chairs. Not what you expect from a ski resort. If you are looking to catch some air, Big White has a world-class terrain park with big jumps, rails and half-pipes to keep the most advanced skies and boarders entertained.
The Big White terrain park is like fashion in the fields so order your custom hoodie or coaches jacket to stand out and impress the onlookers!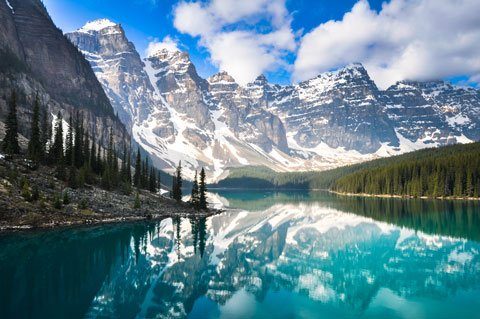 Number 3: Lake Louise
Resort: 1645m
Summit: 2637m
Vertical: 991m
Ski Area: 4200ac
Parks: 1
Average annual snowfall: 360cm
Beginners: 25%
Intermediate: 45%
Expert: 30%
At the heart of the Rocky Mountains sits Lake Louise. The Rocky's are famous for their formations and peak top views and all of this can be enjoyed at Lake Louise. This resort is for all skiers; from beginners to die-hard snow hounds. Ski all 4,200 acres of groomed runs, chutes, bowls and steeps. One downside is that there is no accommodation at the resort, but the villages of Lake Louise and Banff are very close by. Plus if you get bored of Lake Louise you can drive 45 minutes to Banff, another world-class resort.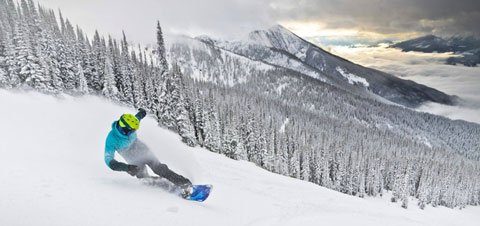 Number 4: Revelstoke
Resort: 512m
Summit: 2225m
Vertical: 1713m
Ski Area: 3121ac
Parks: 0
Average annual snowfall: 900cm
Beginners: 7%
Intermediate: 46%
Expert: 47%
Revelstoke is further to reach than other resorts but that has many benefits including less crowds, empty runs, more powder and plenty of tree skiing. Revelstoke made our top 5 list due to the amount of black and double black runs. Don't think luxury 5-star resorts, but rather serious skiing and serious fun! This resort has a few beginner runs, but it is more tailored for the intermediate and expert skier or boarder. Revelstoke is cheaper than other mountains and you can even find ski-in-ski-out accommodation options. The amazing mountain scenery and endless runs will have you never wanting to leave.
With loads of powder, you are going to want a custom Tall Hoodie so that the snow doesn't creep down your backside!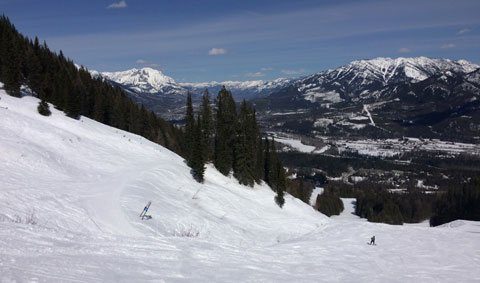 Number 5: Fernie
Resort: 1068m
Summit: 2149m
Vertical: 1061m
Ski Area: 1012ac
Parks: 1
Average annual snowfall: 875cm
Beginners: 30%
Intermediate: 40%
Expert: 30%
Fernie resort is a great option for everyone. There are plenty of entertaining runs and slopes to keep you out all day long. One of the best aspects of Fernie is the lift-pass sharing agreement, which allows you to use the same lift-pass at two nearby resorts: Kimberley and Kicking Horse. Both these resorts are world class and a nice bonus.
With over 140 named runs and many off-piste slopes, there is really something for everyone. Fernie does not have the longest runs but it does have some of the steepest. There are also five Alpine bowls that you can explore. In regards to accommodation, you can either stay in the Resort Village or the nearby town of Fernie, which is a little cheaper.
Fernie is a great place to bring a group of friends or your family, as there are free familiarisation tours hosted by the resort's Winter Sports School team. Consider getting some wholesale hoodies for your crew!